Sulphonated Naphthalene Formaldehyde Condensate Liquid 40%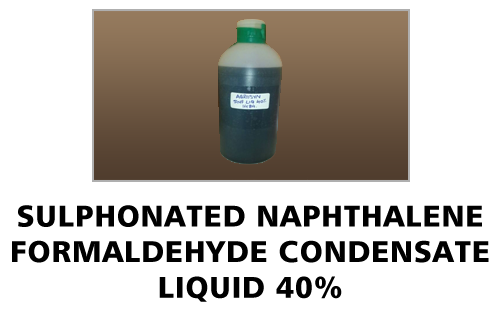 "Superplasticizer having powerful dispersing properties and capable to producing very mobile free flowing pump able concrete. An excellent synthetic auxiliary dispersing agent for neutralization, dye leveling and a precipitating agent for chemical and allied industries.
Nature : Naphthalene sulfonic acid formaldehyde poly condensate, sodium salt.  |  
CAS Number : 9084-06-4
Special features:
It is an aqueous solution of Sulphonated Naphthalene Formaldehyde, Sodium salt polymer.
This is an excellent dispersing agent.
Designed to offer wider tolerances in formulations for concrete admixture manufacturers.
It is compatible with most of the additives used in admixture formulations.
It helps in producing concrete with various unique properties.
Application: Construction industry: High Range water reducer in concrete. Water reduction in concrete up to 25%. Higher slump with lower water – cement ratio. Flow able & pump able concrete with improved theology. Possess homogeneous, free from Honeycombing and dense concrete. High strength due to reduced water – cement ratio.
Packing: SNF Liquid Supplied in Bulk Tankers of 10 MT, 16 MT & 20 MT & 25 MT capacities. It can also be supplied in customized pack size in HDPE barrels.
Specification :
| PARAMETER | VALUE |
| --- | --- |
| Appearance | Dark Brownish Liquid |
| pH value (1:10) | 7.0 to 9.5 |
| Specific gravity | 1.200 to 1.300 |
| Solubility | Completely soluble in water |
| Sodium sulphate | Max.5% |
| Solid | 40 to 50% |
| Chloride content | Below 200 ppm |