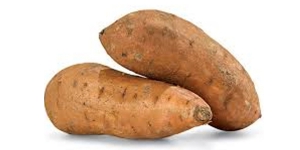 Health benefits of Sweet potato
Sweet potato is one of the high calorie starch foods.Its calorie content mainly comes from starch, a complex carbohydrate
The tuber is an excellent source of flavonoid phenolic compounds such as beta-carotene and vitamin-A. 100 g tuber provides 14,187 IU of vitamin A and 8,509 µg of ß-carotene, a value which is the highest for any root-vegetables categories. These compounds are powerful natural antioxidants.
The tubers are packed with many essential vitamins such as pantothenic acid (vitamin B-5), pyridoxine(vitamin B-6), and thiamin (vitamin B-1), niacin, and riboflavin.
Sweet potato provides good amount of vital minerals such as iron, calcium, magnesium, manganese, and potassium that are very essential for enzyme, protein, and carbohydrate metabolism.
Packaging: Packing is available as per client requirement.