Sulphonated Melamine Formaldehyde Condensate Liquid 40%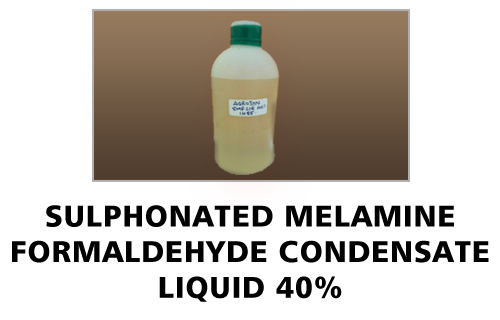 "Superplasticizer having powerful dispersing properties and capable to producing very mobile free flowing pump able concrete.
Nature : Sulphonated Melamine formaldehyde polymer, sodium salt.  |   CAS No :  64787-97-9
Properties:
 SMF Liquid is a very sensitive product. Therefore it must be stored in its original sealed packaging. If stored properly in its original sealed packaging the shelf life is at least 6 months.
Application:
SMF Liquid is an excellent dispersing agent for cement particles and extensively used in concrete, mortars and self-leveling compositions. It promotes fine dispersion with controlled theological behavior of cementitious compositions ensuring for extended work ability. Good liquefying agent for concrete & mortar mixes.
Special feature:
High strength concrete, high fluidity concrete, high duration concrete, aluminate cement refractory concrete, low cement refractory concrete, steam curing concrete.
High strength mortar, gypsum products, self-flowing ground, stuffing materials, grouting materials.
Specifically designed as an admixture for manufacture of white cement/concrete tiles
Be used as the brightened agent for manufacturing the colored road brick and the tunnel liner.
Specification :
| PARAMETER | VALUE |
| --- | --- |
| Appearance | Pale Yellowish liquid |
| pH value (1:10) | 8.0 to 10.0 |
| Solid | 40 ± 1% |
| Specific gravity | 1.235 to 1.255 |